Kshar Sutra Therapy
We will give you best services Most advanced treatment for painless piles, fissure, fistula by Sandhyashi Hospital
What is Kshar Sutra Therapy
Kshar Sutra Therapy is an ancient Indian surgical technique used to treat various anorectal disorders.
The therapy involves the use of a specialized medicated thread called Kshar Sutra, which is prepared from herbal extracts and alkaline substances.
The Kshar Sutra thread is inserted into the anal canal or fistula tract, where it slowly cuts through the affected tissues and simultaneously induces healing.
benefits of Kshar Sutra Therapy​
Kshar Sutra is a traditional Indian therapy that uses a thread soaked in medicinal herbs to treat anal fistulas, piles, and other related conditions.
Kshar Sutra therapy can offer long-lasting relief from painful symptoms such as rectal bleeding or discharge, pus accumulation and infection.
The thread also effectively eliminates dead tissue while promoting healthy cell growth, leading to complete removal of recurrent fissures as well.
Additionally, there are virtually no side effects associated with Kshar Sutra therapy making it a safe option for those seeking relief from anorectal issues.
Unlike surgical procedures, Kshar Sutra therapy is minimally invasive, has a low risk of complications, and ensures rapid post-treatment recovery without the need for any hospitalization or bed rest.
The treatment offers numerous benefits like faster healing rates of anorectal disorders with minimal post-operative pain and early return to daily work activities.
Side Effect of Kshar Sutra Therapy​​
Kshar Sutra therapy is an effective and ancient treatment for various diseases, including fistula in ano.
However, like any medical procedure or intervention, it comes with some potential side effects.
One of the most common side effects of Kshar Sutra therapy is pain and discomfort during the procedure and afterward.
This can be caused due to the cutting action of Kshar Sutra on tissue as it cleanses and drains infected tissue.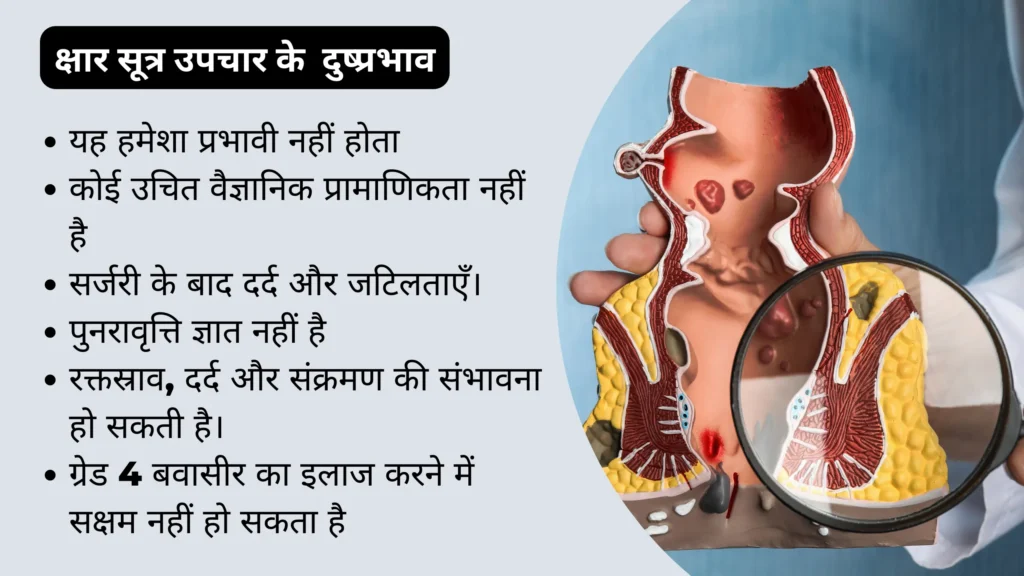 Kshar Sutra treatment recovery time
Kshar Sutra treatment is a safe and effective non-surgical mode of treatment for various anal disorders where the anal fistulae are treated by using medicated thread or Kshar Sutra.
While Kshar Sutra is an excellent alternative to conventional surgical techniques, it requires considerable patience in terms of recovery time.
The extent of healing after this treatment depends on the severity and complexity of the condition.
In general, minor fissures and piles heal quite quickly within two to four weeks, while complex conditions like chronic anal fistulas may take longer to heal—around six months to one year.
During this recovery period, certain precautions should be taken, including maintaining proper hygiene, avoiding sitting for long periods, and preventing constipation as they help speed up the process of healing.
This patient got rid of piles by Ksharsutra Treatment